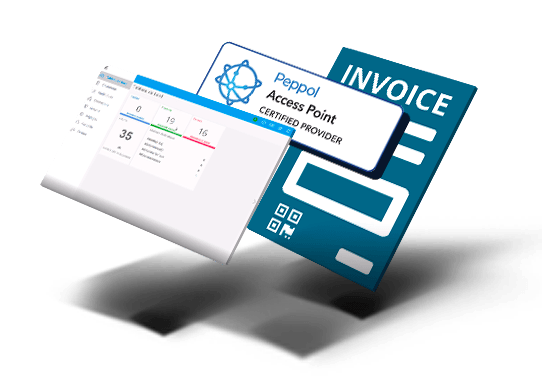 1/ What is PEPPOL?
PEPPOL stands for "Pan-European Public Procurement On-Line". It is a data exchange system created and developed to facilitate exchanges between businesses and public administrations. While it is primarily established in several European countries, companies in other regions can use it as well.
Thanks to the PEPPOL network, businesses throughout Europe can exchange documents electronically with member organizations of the OpenPEPPOL association. This includes invoices, purchase orders, and catalogs.
To transmit (or receive) electronic invoices using PEPPOL, you must go through a certified PEPPOL Access Point (AP). Access Points are responsible for converting documents into PEPPOL standard messages: they can then transfer these messages to another Access Point before delivery to the final recipient.
SYMTRAX, with its COMPLEO SUITE document solutions, has been a certified PEPPOL Access Point since September 2018.
2/ Why use PEPPOL?
A true open network, PEPPOL can reduce the complexity of cross-border exchanges. This increasingly applies not just to Europe but around the world, as countries like Australia, New Zealand, Singapore, and India are gradually adopting the PEPPOL standards. For these users, PEPPOL provides a way to facilitate tax declarations and e-procurement document exchanges.
Today, PEPPOL is particularly encouraged for exchanges with public establishments. If you are a supplier or subcontractor in the public sector, you must be connected to PEPPOL.
3/ PEPPOL and the future of B2B e-invoicing
At Symtrax, we believe that the future of electronic exchanges will be more open than ever. That is why we are convinced that PEPPOL is the best choice for B2B exchanges.
PEPPOL offers a secure, open, and flexible architecture that accepts a large number of proven B2B electronic exchange standards.
Using PEPPOL grants your company access to:
Standard exchange formats: Maintain consistency across all types of documents while also adjusting to regional specificities?
The network: All participating organizations are listed in the PEPPOL directory (SMP). Each participant declares the standards they are able to receive?
Infrastructure: From a certified access point, you can access the entire community, whether you are transmitting or receiving documents.
4/ How to get started with PEPPOL
With Symtrax and Compleo Suite, you can meet all dematerialization requests for your current and future customers as well as suppliers without disruption.
Compatible with any ERP, Compleo Suite can transform all of your document outputs into your recipient's preferred format. It can then distribute them through the PEPPOL network for increased efficiency.
At the same time, Compleo Suite can also receive messages and documents from your suppliers through the PEPPOL network. It accomplishes this by retrieving the document as a PDF and then routing it through a validation workflow until it is integrated into your accounting department, CMS, or other destination.
Finally, Compleo Suite allows you to securely deploy cross-communication of your information system with those of your customers and suppliers. Thus, we make PEPPOL easy-to-use and tailored to your business needs.