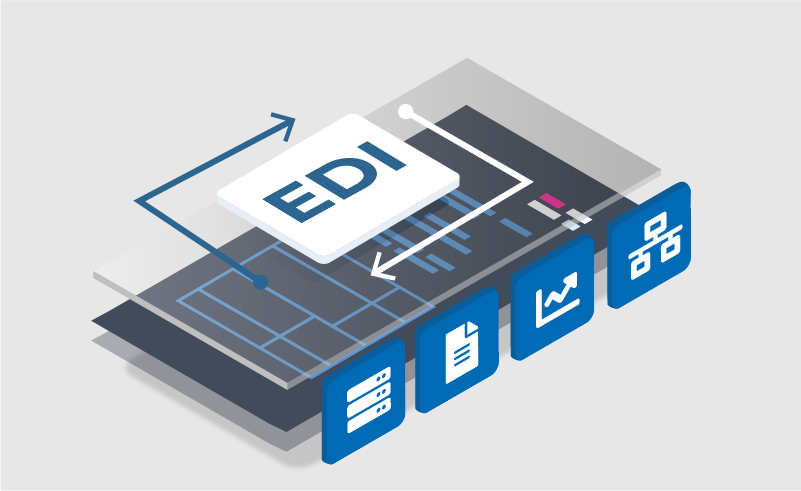 Like most technologies today, EDI implementations can vary depending on how companies approach enablement.
First, we have in-house EDI. This approach is best suited for larger organizations dealing with hundreds or thousands of incoming and outgoing documents from trading partners. The initial setup required for establishing your own EDI involves significant hardware and software charges.
What's more, adding newer trading partners and guidelines can require systemic upgrades every now and then to ensure compliance with various protocols. Scalability quickly becomes another key concern dictating the growth of your EDI capabilities.
Unfortunately, direct EDI can become complex for operating across multiple-enterprise exchange. This is where the emergence of VAN EDIs can help, allowing one connection to route orders to respective partners.
This gives leeway to another option for EDI implementation, too – outsourcing. By outsourcing, a company that holds expertise in providing EDI services can integrate external capabilities into your existing ERP environment. Any additions in trading partners will likely require additional charges. That still saves you the trouble of disrupting your own network infrastructure to accommodate necessary changes.
To put things into perspective, let's look at a few more reasons why you may want to adopt this approach.
With a third-party EDI service provider, you don't have to worry about:
Resource allocation: Completely remove the hassle of financials, implementation planning, personnel allocation, and system modifications. All necessary configuration and systems essentials are taken care of by the service provider.
Data reconciliation and processing: A company specializing in EDI services will have all of the expertise and experience needed for seamless document and data exchange. This includes experience with similar or even the same data formats and exchange protocols you use. In this case, process implementation becomes even easier when compared to in-house practice.
Infrastructure and Scalability: All hardware and software requirements are met by the service provider to match necessary standards for your clients on your behalf. Scalability is no longer a concern, either, as all changes are taken care of externally. In addition, with infrastructure capabilities now cloud-friendly, your document exchange services can scale appropriately.
The Symtrax Advantage
Symtrax specializes in honing EDI capabilities to not just meet standards and protocols, but also blend convenience with security. Our software, Compleo Hybrid, uses certified connectors and web APIs to integrate directly with all ERPs. With end-to-end automation, your entire document exchange and conversion process is optimized to require no manual interference at any point. You can manage, analyze, and compare information to make effective decisions, with electronic data available at your disposal at all times.
We recently enabled an EDI-driven solution for one of our customers: this company needed to cater to their client's specifications for a document exchange process. Specifically, each invoice needed to be converted into a hexadecimal format and uploaded to a pre-defined repository using an API. Compleo was able to meet these specifications without any need for manual input.
E-invoicing also helps meet data formats as a compliance measure for all businesses operating under relevant jurisdictions. Symtrax is at the frontline of e-invoicing with PEPPOL and Chorus Manager in Europe. With the recent e-invoicing mandate in India, Symtrax has established a new presence in this market, helping organizations achieve compliance while also taking steps towards digitization.
What comes next?
The decisions that you make enabling an EDI-powered workspace can strike a change at the very core of your business. This is your supply chain, and it will resonate across all aspects involved in the chain of governance.
To be sure, it's not always smooth sailing from here onwards. Still, EDI can stabilize a corporate network of continuous documentation processes, while mobilizing an organizational change that forces a much-necessary paradigm shift.
EDI is now moving forward with newer business technologies, like cloud-based applications and APIs. Companies have all the more reason to innovate their business going forward, with EDI in mind.
Your business doesn't need to be completely redesigned, but you can choose to shape it to implement ever-changing technologies. With time, you will realize that while keeping up with newer technologies is important, keeping up with the right technologies is even more so.