B2B Integration for Supply Chain Management
Introduction: Changing times always call for changes in strategy for the manufacturing and logistics industries. But when the pandemic disrupted standard supply chain practices, a […]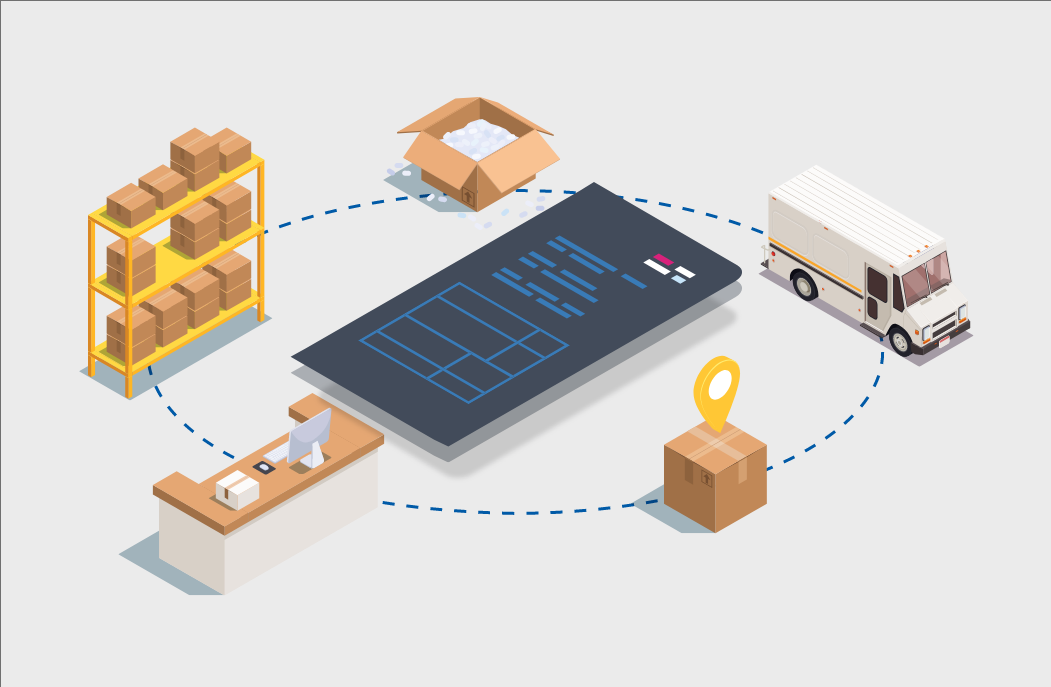 Introduction:
Changing times always call for changes in strategy for the manufacturing and logistics industries. But when the pandemic disrupted standard supply chain practices, a complete overhaul of the processes was required.
Typical approaches needed to both flexible and resilient to withstand future shifts, expected or not. The true challenge proved in not just keeping business running but efficient.
How do businesses run? Whatever their industry, they require a flawless exchange of data. Because of this, data transfer and exchange gaps must be bridged, for these gaps can be a major hindrance to proactive decision-making within a business and delay future progress.
B2B integration can be a game changing solution, as it provides an encrypted and secure system-to-system document exchange requiring data in particular formats. What's more, 85% of supply chain transactions are managed this way. But, with ever-demanding business needs, companies require more flexible data interchange methods to keep supply chains with their partners robust.
To bridge data exchange gaps and make distribution or ERP integration seamless, API needs to be introduced. Specifically, it impacts the Supply Chain Management (SCM) process of businesses and API for logistics industry as well.
Why API?
API is one of the prime solutions to flourishing supply chain management. A real-time connection makes API both effective and adaptable. It is secure, customizable, and completely integrated into existing systems, as well as easy to maintain.
What does API do in B2B transactions?
Simply put, an API is an assembly and standard of programming instructions for accessing web-based platforms. It enables software to establish direct communication between both trading partners.
Rather than making use of a file transfer server, API can connect directly to applications or transactional software like an ERP, making data transfer a far simpler task at hand. EDI via API can also help reduce data entry delays any exchanging data directly with the reciever's ERP, causing exponential increase in interchange speed.
B2B integration enhances business processes by providing a secure mode of data exchange with authentication and high-end encryption. This helps prevent the risk of data exposure and theft.
B2B integration within a supply chain eliminates the need for manual intervention.
API also aids in reducing supply chain costs by reducing the scope of error and information transfer log-in management, warehouse management, tracking, payment, and mapping systems. The integrations can be made with various disparate platforms without having to overhaul entire systems every time change is needed.
Use case of exchanging data between business with API for EDI
APIs are considered to be the paramount boost for EDI. They can provide businesses with seamless communication and data exchanges through cloud-based in-house apps.
When API is set up with EDI, the results are beneficial to both the supply chain processes and logistics. API for EDI solutions can be an additional advantage for B2B data transactions such as exchanging business documents between trading business partners.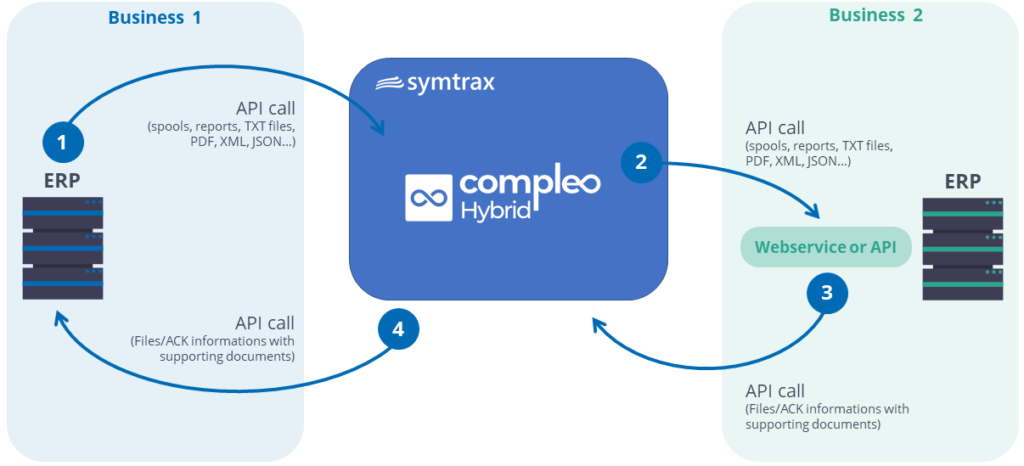 The above architecture depicts how a business can interchange data with another via intermediate entity using API calls.
Consider a scenario where Business A is a seller and, Business B is a buyer. To manage the supply chain effectively, crucial data and documents need to be interchanged between these trading partners. At the same time, the businesses have to maintain restrictions on access to their systems/ repositories.
In this scenario, a Value Added Network (VAN) plays the role of an interchange mediator. In a typical B2B transaction, a seller intends to send a quotation to the buyer and access the VAN with the proper permissions, API keys, and authorization. The same data is then shared by the VAN with the buyer by calling their API. The buyer responds to the approved quotation with a Purchase Order (PO), requested by accessing the buyer's API and in turn exchanged with the seller.
Before sending out the consignment, an Advanced Shipping Notice (ASN) is sent to the client notifying them about the upcoming order. Using an B2B integration ecosystem, the seller can send the business-ready document (in this case, an ASN), directly to their client or business by making API calls to their ERP/portal.
In the same way, any data or business document format can be exchanged between trading partners by making VAN API calls to their respective ERPs. This completely removes the need for any human intervention and provides unmatched security.
API-based solutions easily bring the whole supplier ecosystem into the digital space, increasing efficiency in turn. They can exchange a range of business-ready documents, such as purchase orders, ASN or delivery notes, invoices, invoices receipts, etc.    
This way, VANs ensure expeditious data interchanges while assuring security for the enterprises.
Conclusion
The ever-evolving business landscape demands exchanges be enhanced every step of the way. Elevating the ways data exchanges are conducted by using B2B inetgration can greatly boost operational speeds.
API for EDI can also be a great cost-effective method to ensure a completely digital landscape. Automating repetitive tasks reduces the degree of business correspondence when done electronically.
Adding API into SCM logistics can be a revolution for business efficiency. Organization demands for modernized solutions are meant to correspond with trading partners with complete traceability. APIs are the best option for supply-chain-based organizations to reap the benefits.