Easy Advance Shipping Notice Intimation into Customers Portal
Introduction Imagine a newly ordered consignment of yours arrives at your warehouse unannounced without any shipping document. Yes, it is good that it is […]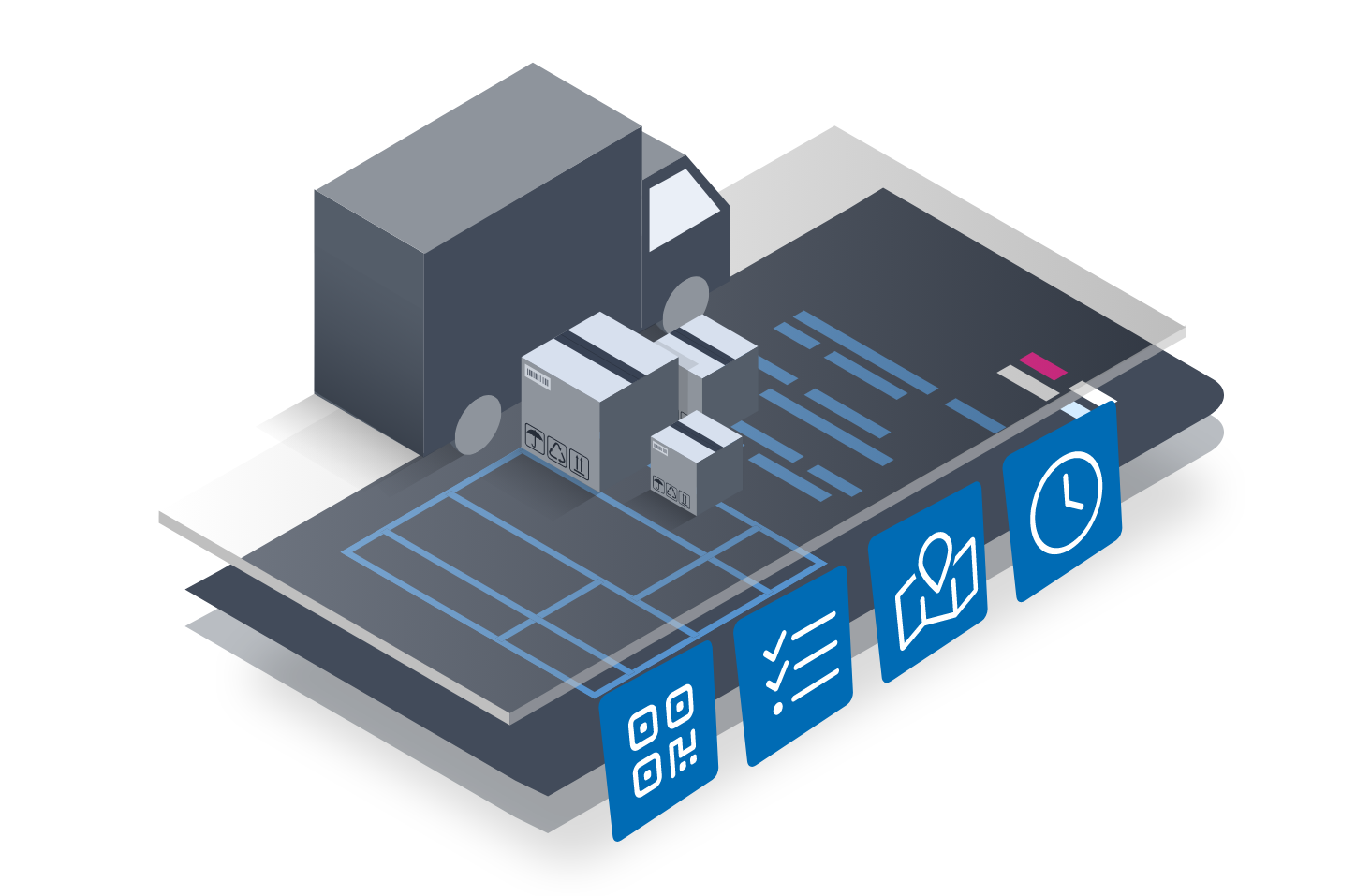 Introduction
Imagine a newly ordered consignment of yours arrives at your warehouse unannounced without any shipping document. Yes, it is good that it is early, but there is no space to house it. Your existing stock is yet to be dispatched or utilized.
Research suggests, more than 90% of clients expect post-sales correspondence regarding order updates and progress.
In this case, it would have been more convenient if the new consignment had been estimated beforehand. With advance knowledge, warehouse managers could have made space in the inventory for the arriving order, or, failing that, postponed the delivery.
To avoid such business hurdles business, you can use Advance Shipping Notices (ASNs).
ASNs are documents provided before an order is dispatched to alert the recipient and prepare them for delivery.
An ASN is a prior shipment notification sent from the vendor to the buyer via an Electronic Data Interchange (EDI) message. This message contains comprehensive shipping information.
An ASN is an EDI or XML format-based business document that contains shipment details, such as the arrival time, size, and weight of a delivery.
ASN is also termed as outbound shipping manifest, EDI 865 and more. Nevertheless, the intent remains the same: to intimate the recipient about the shipment arrival.
What is the content of an ASN?
Although the contents of an ASN may vary by business, commonly included content is illustrated below: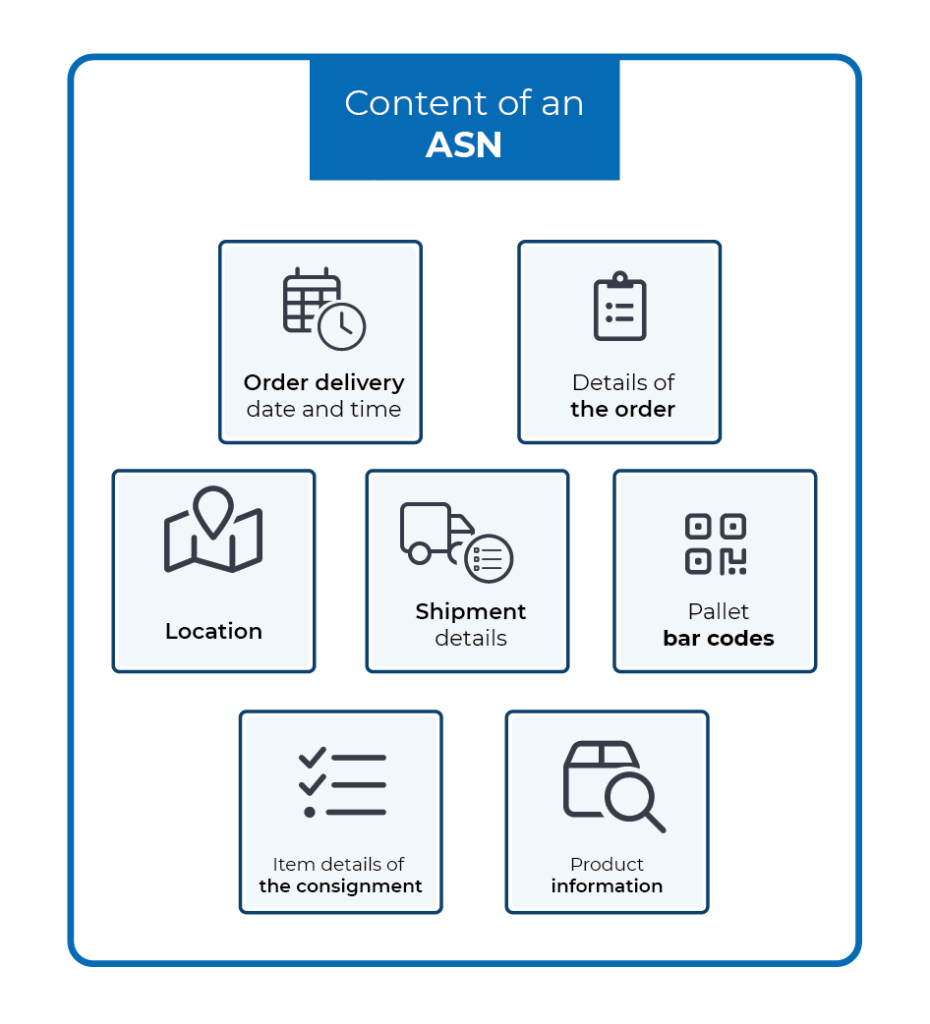 With these details, the recipient can be better prepared for each consignment. Even better, both parties can spot any potential problems in the order at an early stage.
These details about upcoming shipments can answer such questions as:
What is the order?
What items does the order contain, and how many?
What condition are the contents of the order in?
Does the shipment contain all of the ordered items?
What is the order's estimated arrival time?
Are barcodes or pallet codes an option for easy acquisition?
Who is the shipping company?
What is the shipment's tracking number?
Functioning of an ASN
Though small, ASNs can play a vital role in supply chain management.
Once a Purchase Order (PO) is generated and sent to the vendor, the consignment is accordingly made ready for shipment.
Prior to shipping, the vendor then sends the ASN to the receiving party. The order is then shipped.
Next, the ASN is compared with the PO for validation. If any discrepancy between the two is found, it is reported to the supplier then and there.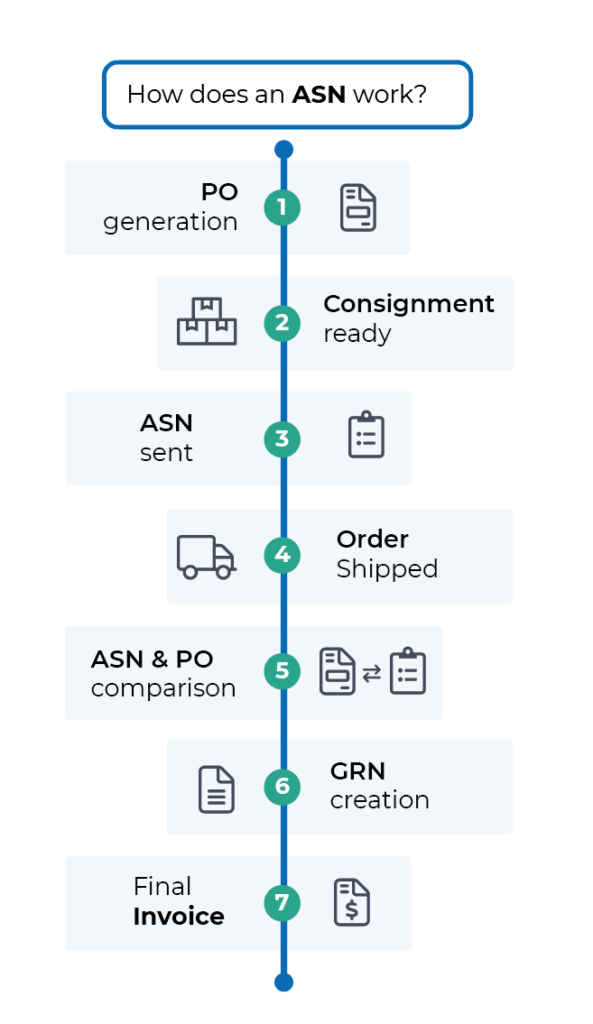 In addition to simplifying GRN creation, ASNs also help enhance inventory management.
Once the consignment is delivered, the sent ASN and PO are used to create a Goods Received Note (GRN), along with order verification and quality checks.
Advantages of an ASN
ASN creation not only informs the recipient about an upcoming order or consignment but offers many other business benefits:
– Easy GRN creation with PO and ASN matching/comparing
As previously mentioned, ASN ultimately makes GRN creation smoother.
– Transparency
An ASN that includes all the minute details of a consignment increases transparency for the entire supply chain management process. This not only keeps track of the upcoming order, but also ensures both parties are treated fairly and have the same information.
– Warehouse management and order confirmation
One of the core advantages of sending an ASN is that it provides the recipient with advance notice about the order's arrival. Along with maintaining transparency, the ASN also makes it easier for inventory management by sorting order-related issues in the initial phase. It can help with production planning, too, in the case of manufacturing companies that wish to increase assembly line efficiency. Finally, an ASN confirms the final order that was placed and agreed upon by both the businesses.
Summary
The main purpose of the ASN is to make business processes easier to manage. However, improving this element would add more value to the business:
ASN, including other distinct EDI records such as: shipment updates from transportation vendor, help to streamline the supply chain process. By providing insights into the whereabouts of goods in transit, ASNs allow for greater transparency and planning. As a result, companies can confidently adopt real-time inventory management, freeing up working capital.
Automating ASN creation can improve the process even more. Automation not only has the potential to save time: it can eliminate the need for manual intervention and drastically cut down on errors.
By making API calls, vendors can directly send automatically generated ASNs to the client's portal.
A process automation solution like Compleo from Symtrax, can greatly enhance business processes and logistics management. This solution generates an ASN automatically and then offers to deliver it directly to the client ERP or portal through either certified connectors or API calls.
An ASN is not simply a shipping document. This document serves multiple purposes and can improve various elements of a inventory management. To find our more, schedule a consultation with us today.