KSA E-invoicing: Integration Phase
ZATCA AND KSA E- INVOICING IN BRIEF The Kingdom of Saudi Arabia (KSA) has announced the inclusion of e-invoicing system Fatoorah under the Zakat, […]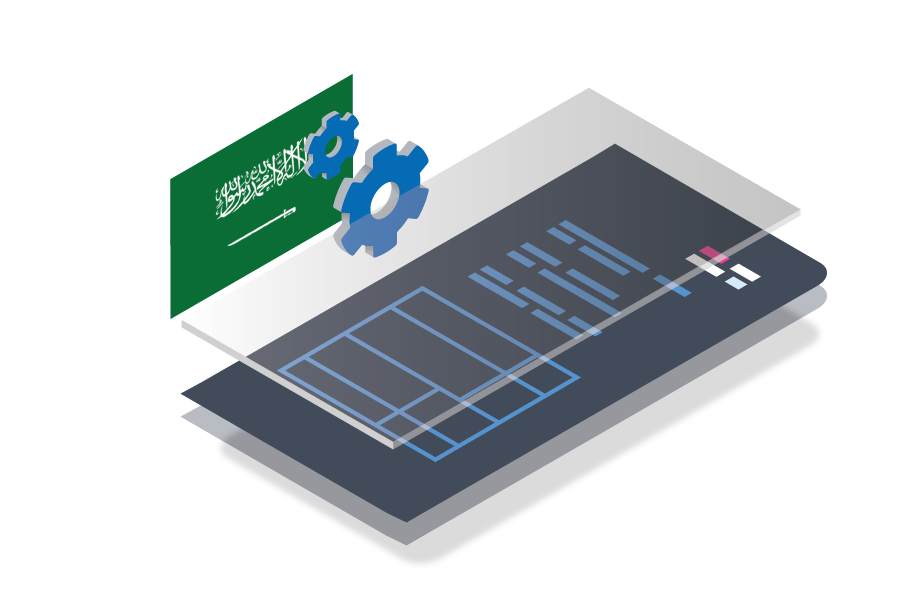 ZATCA AND KSA E- INVOICING IN BRIEF
The Kingdom of Saudi Arabia (KSA) has announced the inclusion of e-invoicing system Fatoorah under the Zakat, Tax and Customs Authority (ZATCA). The Fatoorah is an initiative to convert paper-based billing and notes into an electronic invoicing system.
In a nutshell, keeping only a paper-based billing system will be prohibited and penalized by law. Generating E- invoices will be applicable for people and industries liable to pay VAT.
This will require any taxable person / business in KSA to generate invoices, credit notes, and debit notes in an electronic format and submit them in a pre-defined format on the portal for verification. This will be mandatory once the implementation of Fatoorah is complete.
Some of the main purposes of Fatoorah implementation are to:
Enrich fair trade and competition
Protect consumers through a unified and streamlined process
Prevent illegal transaction
According to the information provided by ZATCA, the compliance is to be completed by all enterprises in two phases for effective and efficient compliance.
Invoices to be registered with Fatoorah
Businesses are involved in multiple invoice transactions each day. The type can be categorized based on the industry and type of business being done.
Standard invoice
Standard invoices are tax invoices relevant to B2B and B2G transactions. These are primarily used for demanding VAT input deductions by buyers. These are also necessary for all companies pertaining to exporting goods, regardless of supply value or the customer's status.
Simplified invoice
These invoices are like any other type of electronic invoice, where mentioning the buyer's name and details is not mandatory. These invoices, in most cases, are applicable to B2C transactions and other situations where VAT inclusion is not necessary.
The only exceptions are simplified invoices generated for private medical and educational institutes that require mention of the VAT component (treated as "zero component").
Have you complied with the Generation Phase?
The ZATCA has implemented Fatoorah in two phases for effective adoption of the E-invoicing system.
The implementation of Phase 1 was launched on December 4th, 2021.
In this phase, the taxable entities and trades were expected to store their invoices, bills, credit notes, and debit notes electronically. These invoices need to be in both XML and human-readable formats like PDF with a QR code included for simplified invoicing and taxpayer information.
The taxpayers are not expected to submit their bills on the FATOORAH portal. However, during this phase, they are expected to equip and make their systems E-invoicing compliant.
Click here for more information on the Fatoorah generation phase.
What is expected in the Integration Phase?
This is the stage during which taxable businesses are expected to generate invoices electronically and submit them for verification on the Fatoorah portal beginning on January 1st, 2023.
The implementation of this phase would happen in waves, with the taxpayers in the first wave selected based on their revenue and notified six months prior to the implementation date. The invoicing solution opted by the taxpayer is designed to generate the following elements when submitting the invoices to the ZATCA portal for verification:
UUID

A unique 128-digit number generated by algorithm.
Created by the E-invoicing solution provider.
Embedded in the XML file.
May also be known as GUID.
Mandatory for every generated invoice.

Cryptographic Stamp

To be generated by the taxpayer's invoicing system for simplified invoices.
The Authority E-Invoicing Integration Portal generates a stamp for standard invoices.
Not visible on the printed invoice.
A technical digital signature for verifying the authenticity of the documents.
It is proof that the invoice is created by the specified sender and that the content is unaltered.
Public key used to create the stamp for easy validation.

Cryptographic Stamp
Identifier

A credential associated with the invoice and stamp.
Issued by ZATCA E-invoicing Integration portal.

Previous Invoice Hash

A mandatory component.
An alphanumeric code with special characters generated by the taxpayer's invoicing solution.
Digital fingerprinting for an invoice.
Useful for invalid invoices.

QR
Code

Contains basic invoice data.
Visible in printed invoices.
Generated by the invoicing solution.
Contains the following elements in the generation phase:

The seller's name
Sellers VAT registration number
Time Stamp of the invoice
Invoice total
VAT total

Contains the following elements in integration
phase:

Cryptographic stamp
Hash of the invoice linked to the Invoice XML

Specialized applications needed for scanning the
QR code.

Invoice
Counter

Generated by the invoice solution.
Represents each invoice issued via the system.
Values denote the taxpayer.
These are just some of the critical E-invoicing system aspects. Click ZATCA E-INVOICING for more details on Fatoorah guidelines.
Systematic E-invoicing Process
Any taxpayer is to follow a standardized workflow for submitting the invoices on the ZATCA portal.
The workflow for the submission of invoices is as follows: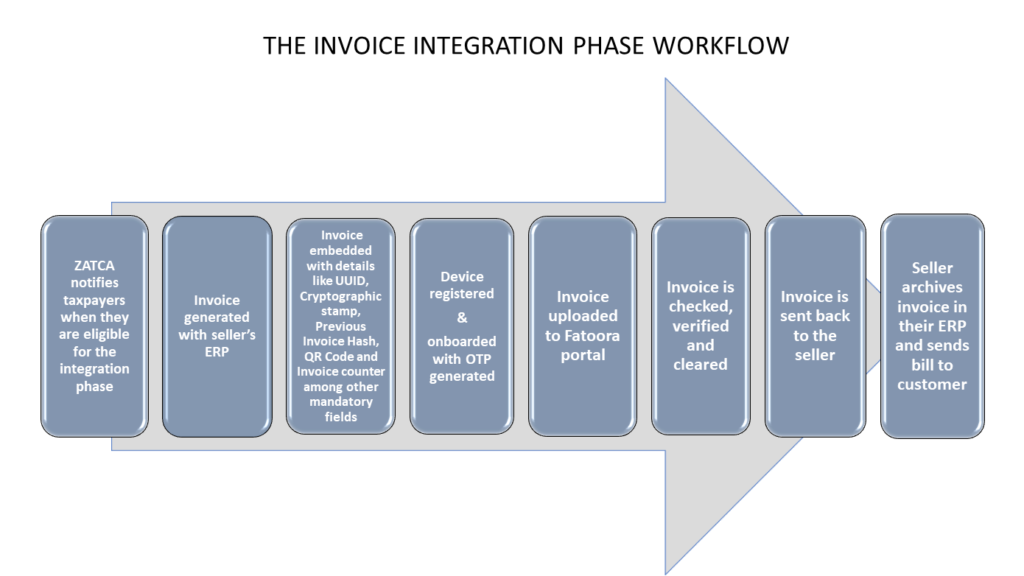 What are the benefits of choosing Symtrax for KSA compliance?
With the new Fatoorah system, the KSA has strengthened its taxation system. Symtrax strives to provide a seamless and hassle-free experience for clients in their journey to ZATCA compliance.
Our solution aims to meet the KSA's Fatoorah compliance with end-to-end automation for greater efficiency.
These are some of our key features:
Symtrax ensures an efficient way to generate QR Codes, UUID, Cryptographic stamp, invoice hash, and all other requirements for Fatoorah compliance.
Our solution integrates with ZATCA systems without disrupting your existing setup. Compleo allows for complete automation, including conversion and secured storage. With enhanced automated buyer-facing distribution capabilities, manual intervention is no longer needed
Real-time monitoring and tracking
Once the bill is generated, e-invoicing ensures the invoice is tamper-proof by removing the need for manual input. In addition, our system guarantees user rights and authorized credentials with complete security and monitoring.
Secure communication via API
Our API-based EDI ensures that third-party entities do not access private systems. We act as a mediator for exchanging data while keeping it secure.
Increase productivity with RPA
When paired with our other solutions, e-invoicing can automate your workflow and documentation processes, helping to reduce manual workloads by 50%. Workflow automation also helps:
Accountability
Going paperless
Increasing customer satisfaction by ensuring speedy processes and reducing errors
Analysis
Our solutions are equipped to make your compliance journey seamless and can be implemented within days while remaining external to your system. You are also provided with a user-friendly application to monitor all your processes. What's more, our SAP connectors prove to be an effective solution for seamless integration with your ERP. The solution also provides support and online help manuals in Arabic.
Conclusion
Every business expects the invoicing solution they adopt to make submission on the portal easy to implement and hassle- free.
Reducing manual dependency is another major consideration.
Our solution lets you meet these expectations and provide clients more than just invoice compliance. End-to-end automation also amplifies workforce efficiency with minimum manual intervention, ensuring no errors. Other Symtrax solutions can help clients streamline their workflows, improve their business processes, and more. Contact us today to schedule a consultation and find out which solution is best for you.