Today's fast-paced business landscape expects efficiency, productivity, and value for money at every step. Any business, regardless of its rates of sales and turnover, must follow standard processes. Order-to-cash process automation is one such process. The O2C cycle is a company's order fulfillment system. It includes all operations involved in receiving an order from a customer (or company), processing it, and receiving payment for the sent order. The O2C process is formally acknowledged and followed by all companies using ERP (Enterprise Resource Planning) systems, though smaller businesses practice the exact cycles for order fulfillment. However, O2C is more than just another backend office process. This process allows businesses to prosper by improving cashflows and working capital efficiency. This whitepaper will evaluate the impact of the O2C cycle on practical yet significant business facets.
Most businesses follow the same procedure for order fulfillment with minor changes to comply with specific business needs. These often include interactions with governments. The general outline of an O2C cycle that may include interacting with a government entity is as follows: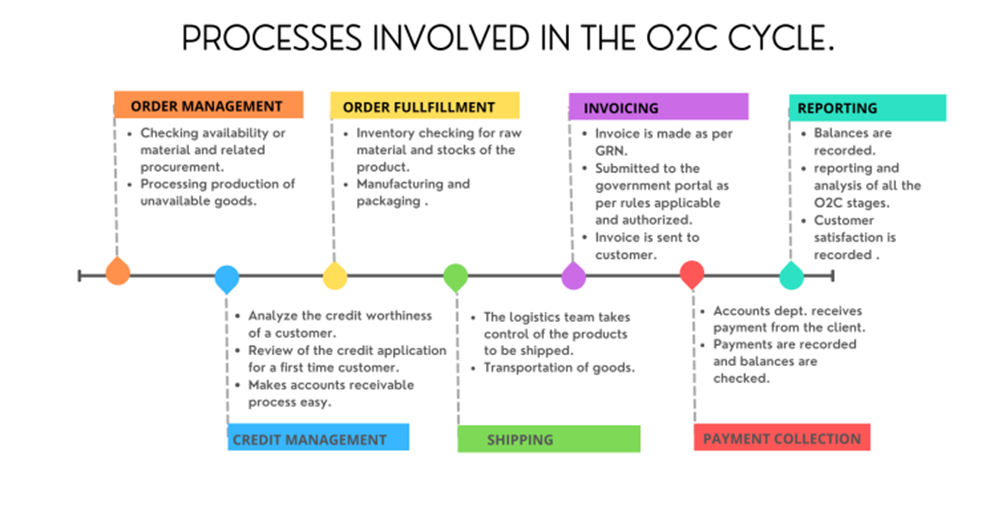 The O2C cycle is the backbone of any business that wants to grow and sustain growth. While an effective O2C cycle has many advantages, certain factors can directly impact it, affecting overall business performance. These factors can cause hurdles during one or more stages of the cycle. Therefore, authorities should initiate a full-scale order-to-cash process automation cycle review.
Discrepancies and a lack of transparency can keep your O2C cycle from running smoothly. In many practical scenarios, it is common to see a time lag when passing on information, updates, or documents to a parallel working department. This not only hampers the project's allotted time for the workforce in another department but may also cause profound implications for the order's prompt completion or production.
Discrepancies in the order-to-cash cycle
• If inventory information and bills of material are not updated correctly, the sales and purchase team could be ignorant or confused about the probability of an order's completion.
• Incorrect billing due to incorrect data entry on the delivery note.
• Delays in verification and approval from authorities.
The crux of financial and operational planning is the projection of numbers for future investments in inventory preparation, credit management, and managing working capital. When implemented well, projection can lead to smoother operations and seamless production. According to a recent study, inventory often represents the most significant part of a retail business's assets, with up to 80% of cash usually connected. Projecting correct values helps keep up with manufacturing and client demands. Positive approaches may help keep morale high, but if projected order fulfillment possibilities are low, further efforts will be ineffective. Not just that, but issues in timely and qualitative production directly affects business revenue of the business. Material and inventory management has the most significant impact on the O2C cycle. While incompetent inventory management often results in delays, timely production cycles may show positive effects on revenue.
Efficient inventory management can:
• Ensure optimum allocation of working capital.
• Make sales models more sustainable.
• Minimize miscellaneous projected costs during order fulfillment.
• Ensures updated data to avoid last-minute hassles.
• Help avoid unnecessary investments in safety stocks and maintain critical levels.
Whether in the food and beverage, pharmaceutical, apparel, or other manufacturing industries, businesses involve repetitive steps with every production and sales cycle for each new order. These repetitive cycles are essential and, if automated, can help you save copious amounts of time and resources. Furthermore, automation helps mitigate errors while freeing up operational agility for other processes.
Order-to-cash process automation
This the only solution to the following global questions:
• How can businesses overcome the shortcomings and challenges of the manual O2C cycle?
• How can businesses optimize business processes?
• How can businesses reduce the unbalanced load of those driving the O2C cycle while maintaining workload equilibrium?
To make automation faster, enterprises first need to analyze their processes. Automation may strike you as an overwhelming solution, but adoption can be seamless if planned well. The first step is to number the drawbacks of the current O2C cycle, and the problems faced in executing it.
You can get the information to do so from the following:
• The workforce driving your company's O2C
• Clients' experience with enterprise
• Logistics teams
These drawbacks determine the areas of improvement and highlight pain points in the process, making it easier to find the appropriate automation solutions and providers to solve enterprise issues. Plan out the desired degree of automation.
Automation is a widely applicable solution, impacting every section of the enterprise. However, the most urgent need for automation is in process digitization. The most strenuous and tedious part of this process is updating data and apprising the concerned team for the smooth flow of the process.
Target points for necessary improvements
Decision-makers need to ascertain the degree of document automation to be implemented based on some of the following considerations:
• Drafting the flow of internal information and documents: Every enterprise follows protocols to validate or approve documents at each stage of the O2C process. Moving documents from one department or person to another in the hierarchy must be clear.
• The validation and verification process required for each document type: Not all documents require the same type of authentication. Some, like purchase orders and invoices, need digital signatures from the concerned authority, while others, like delivery notes, may need a notification when updated in your system. Hence, clarity over the systematic process flow and level of authentication should be taken seriously.
• The hierarchy involved in the document cycle: Determining the validation level and flow of documents before sending them to the customer is essential when automating any process.
• Employee locations and the number of people working remotely: Companies have a workforce spread across multiple locations, each with a unique requirement. Hence, automation systems need to fulfill these requirements for smoother company functions.
• ERP used: Can the automation solution easily integrate with your existing set-up without significant disruptions?
• Workforce data accessibility, monitoring, and need: With automation, keeping the data restricted to the concerned workforce is essential. The automation process should also allow you to monitor workforce access and each department /employee's sanctions for faster discovery of any issues and mistakes.
• The mode of electronic data interchange and the level of security needed for its transmission: It is necessary to ensure data security, regardless of how the data flows within and outside the company.
• Willingness and ability of the workforce to adapt: It is advisable to adopt automation incrementally to keep the pace of work intact and provide sufficient time for employees to understand automation and electronic data interchange within and outside the company. Your first step towards digitization will work best if it is less disruptive.
Creating a road map for an easy transition
The wiser plan is to take order-to-cash process automation implementation in stages, starting with more straightforward solutions, even restricted to one process or department. This allows the workforce to gauge and analyze the level of adoption required and the time. The organization's "road map" should help them determine the following:
• The specific O2C cycle process to be automated
• Time required for adoption and training
• Buffer time required for adjustments and seamless implementation
• Schedule of the next process to be automated
• Analysis of potential changes in ROI (return on investment) and DSO levels
• The level of efficiency the workforce stands to achieve after automation.