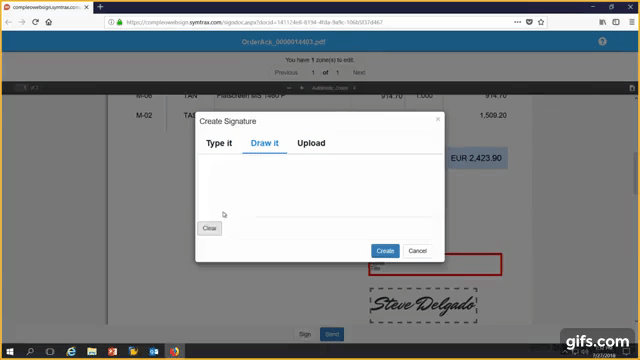 Electronic signatures are becoming increasingly common, but that doesn't mean they are a one-size-fits-all proposition.
Whether you need to request multiple partner signatures or add a single person for a unique notary document, your approach to signatures requires a custom process.
Here are some guidelines to help you identify and select the appropriate solution for you.
By following them, you can request partner approval for numerous commercial or trade documents at once, with guaranteed security and traceability.
E-signature types
First, some quick clarifications. There are two categories of e-signature, and they vary based on whether a single or multiple signer is involved.
A legal contract or transaction involving 2 or more people:
In this scenario, the electronic certificate is automatically applied to the relevant document after all signatures are completed.
Trade & Commercial business documents requiring a single signature:
These can include purchase orders, sales orders, delivery notes, packing lists, and invoices, among others.
This post will address the second category.
Handling the signature process for commercial and trade documents through a custom workflow allows you to address individual needs.
Our digital document transformation and distribution software includes integrated digital signature and electronic signature requirements (you can read the difference between digital signature and electronic signature).
Therefore, we are pleased to share important security factors for either of these signature implementations. This is especially valuable for corporations handling high volumes of documents.
Below, we will explore how our e-signature software solution addresses key signature issues.
Essential Steps
To carry full legal authority, the signature process must match some important criteria. Here are four of the most crucial elements:
1. Proving the signer consents to e-signature
Document details, including a URL for online access, are routed to the signer via email, inviting them to proceed. However, the signer may or may not decide to do this, even after viewing the document itself.
If the document is opened and left unsigned, the requester gets a notification suggesting different options. Similarly, if this document is left inactive for a defined period, the same information is reported to the requester.
As a result, the document will no longer be available for e-signature. This puts a cycle in place to ensure user consent and avoid backlogs.
2. Introducing evidence of intent
The signer is required to enter details such as name, job title, and the date.
What's more, the signer enforces their intention to electronically sign the document in question.
By completing these and other mandatory fields, the signer highlights their willingness to apply an electronic signature. They can draw this signature by hand, stylus, or mouse.
3. Verifying signer identity
Each signature must match the name indicated in the document itself, and there are several ways to guarantee this.
Adding a passcode requirement to open the PDF helps ensure security while including the signer's email address: this code can be sent as an SMS to the signer's phone for authentication.
Letting the signer apply a handwritten signature is another useful step. Finally, including multiple indicators reflecting the signer's IP address or GPS coordinates helps verify their location.
Together, these measures can confirm the signer's identity without slowing down the signature workflow.
4. Providing auditability
A smart document solution simplifies audits immensely. Once the signers have approved the PDF, you can automatically apply a digital signature to lock document content, maximizing authenticity.
It's also possible to print details onto the document itself, thereby creating an identity card for easy reference.
Because of this, whenever the document is ready for auditing, a simple display of properties will show access history and other data.
In addition, a QR Code embedding metadata and text content may be printed on the document itself for added integrity.
Why RPA Matters
You can meet all of these criteria using robotic process automation (RPA). RPA lets you manage your entire commercial or trade document process through the following steps:
Release each document from the ERP
Control distribution to signers
Apply electronic and digital signatures
Ensure strong security along and traceability
RPA not only eliminates the need for manual intervention, it adds auditability to the e-signing process, while handling large document volumes with speed and efficiency.
This workflow provides qualified electronic signatures since it is implemented via a digital interface.
Reference:
Electronic Signatures in Global and National Commerce Act
Electronic Signatures Directive